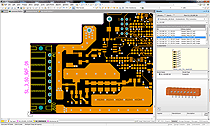 Complete component libraries for your PCB design software
BVFL 7.62HP/04/180MF4 BCF/04 SN BK BX SO
Type
BVFL 7.62HP/04/180MF4 BCF/04 SN BK BX SO
Order No.
2427960000
Version
PCB plug-in connector, female plug, 7.62 mm, No. of poles: 4, 180°, PUSH IN with actuator, Clamping range, rated connection, max.: 6 mm², Box
GTIN (EAN)
4050118437133
Qty.
20 pc(s).
Product data
IEC: 1000 V / 38 A / 0.5 - 6 mm²
UL: 600 V / 35 A / AWG 24 - AWG 8
Packaging
Box
| | |
| --- | --- |
| Product family | OMNIMATE Power - series BV/SV 7.62HP |
| Wire connection method | PUSH IN with actuator |
| Pitch in mm (P) | 7.62 mm |
| Pitch in inches (P) | 0.3 inch |
| Conductor outlet direction | 180° |
| No. of poles | 4 |
| L1 in mm | 30.48 mm |
| L1 in inches | 1.2 inch |
| Pin series quantity | 1 |
| Rated cross-section | 6 mm² |
| Touch-safe protection acc. to DIN VDE 57 106 | Safe from finger touch |
| Touch-safe protection acc. to DIN VDE 0470 | IP 20 |
| Volume resistance | 4.50 mΩ |
| Can be coded | Yes |
| Stripping length | 12 mm |
| Screwdriver blade | 0.6 x 3.5 |
| Plugging cycles | 25 |
| Withdrawal force per pole | 7 N |
| Packaging | Box |
| | |
| --- | --- |
| Insulating material | PA GF |
| Colour | Black |
| Colour chart (similar) | RAL 9011 |
| Insulating material group | II |
| CTI | ≥ 500 |
| Insulation resistance | ≥ 108 Ω |
| UL 94 flammability rating | V-0 |
| Contact material | Cu-Leg |
| Contact surface | tinned |
| Layer structure of plug contact | 6-8 µm Sn glossy |
| Storage temperature, min. | -25 °C |
| Storage temperature, max. | 55 °C |
| Max. relative humidity during storage | 80 % |
| Operating temperature, min. | -50 °C |
| Operating temperature, max. | 125 °C |
| Temperature range, installation, min. | -25 °C |
| Temperature range, installation, max. | 125 °C |
| | |
| --- | --- |
| Clamping range, rated connection, min. | 0.5 mm² |
| Clamping range, rated connection, max. | 6 mm² |
| Solid, min. H05(07) V-U | 0.5 mm² |
| Solid, max. H05(07) V-U | 6 mm² |
| Flexible, min. H05(07) V-K | 0.5 mm² |
| Flexible, max. H05(07) V-K | 6 mm² |
| w. plastic collar ferrule, DIN 46228 pt 4, min. | 1.5 mm² |
| w. plastic collar ferrule, DIN 46228 pt 4, max. | 6 mm² |
| w. wire end ferrule, DIN 46228 pt 1, min | 1.5 mm² |
| w. wire end ferrule, DIN 46228 pt 1, max. | 6 mm² |
| | |
| --- | --- |
| tested acc. to standard | IEC 60664-1, IEC 61984 |
| Rated current, min. no. of poles (Ta = 20°C) | 38 A |
| Rated current, max. no. of poles (Ta = 20°C) | 38 A |
| Rated current, min. no. of poles (Ta = 40°C) | 34 A |
| Rated current, max. no. of poles (Ta = 40°C) | 34 A |
| Rated voltage for surge voltage class / pollution degree II/2 | 1,000 V |
| Rated voltage for surge voltage class / pollution degree III/2 | 1,000 V |
| Rated voltage for surge voltage class / pollution degree III/3 | 800 V |
| Rated impulse voltage for surge voltage class/ pollution degree II/2 | 6 kV |
| Rated impulse voltage for surge voltage class/ pollution degree III/2 | 8 kV |
| Rated impulse voltage for surge voltage class/ contamination degree III/3 | 8 kV |
| Short-time withstand current resistance | 3 x 1s with 420 A |
| Clearance, min. | 10.4 mm |
| Creepage distance, min. | 12.7 mm |
| | |
| --- | --- |
| Rated voltage (Use group B) | 600 V |
| Rated voltage (Use group C) | 600 V |
| Rated voltage (use group D) | 600 V |
| Rated current (use group B) | 33 A |
| Rated current (use group C) | 33 A |
| Rated current (use group D) | 5 A |
| Wire cross-section, AWG, min. | AWG 24 |
| Wire cross-section, AWG, max. | AWG 8 |
| | |
| --- | --- |
| Rated voltage (use group B) | 600 V |
| Rated voltage (use group C) | 600 V |
| Rated voltage (use group D) | 600 V |
| Rated current (use group B) | 35 A |
| Rated current (use group C) | 35 A |
| Rated current (use group D) | 5 A |
| Wire cross-section, AWG, min. | AWG 24 |
| Wire cross-section, AWG, max. | AWG 8 |
| | |
| --- | --- |
| ETIM 4.0 | EC002637 |
| ETIM 5.0 | EC002637 |
| ETIM 6.0 | EC002637 |
| eClass 6.2 | 27-26-07-04 |
| eClass 9.1 | 27-44-04-02 |
Notes

Technical specifications refer to the power contacts

Technical specifications of signal contacts: 50V / 5A

Additional colours on request

Rated current related to rated cross-section & min. No. of poles.

Wire end ferrule with plastic collar to DIN 46228/4

Wire end ferrule without plastic collar to DIN 46228/1

Rated data refer only to the component itself. Clearance and creepage distances to other components are to be designed in accordance with the relevant application standards.

Additional pole combinations on request

IPC conformity
The products are developed, manufactured and delivered according to the internationally recognised IPC-A-610 standard, category "permissible". More extensive demands on the products can be evaluated on request.
There are no products in this group.