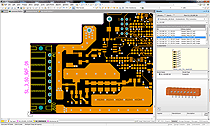 Complete component libraries for your PCB design software
BLF 5.08HC/06/180LH SN OR BX
Delivery status
Discontinued
Available until
2014-05-20
Type
BLF 5.08HC/06/180LH SN OR BX
Order No.
1015030000
Version
PCB plug-in connector, female plug, 5.08 mm, No. of poles: 6, 180°, PUSH IN, Clamping range, rated connection, max.: 3.31 mm², Box
GTIN (EAN)
4032248723911
Qty.
42 pc(s).
Product data
IEC: 400 V / 24 A / 0.2 - 2.5 mm²
UL: 300 V / 18.5 A / AWG 26 - AWG 12
Packaging
Box
| | |
| --- | --- |
| Product family | OMNIMATE Signal - series BL/SL 5.08 |
| Wire connection method | PUSH IN |
| Pitch in mm (P) | 5.08 mm |
| Pitch in inches (P) | 0.2 inch |
| Conductor outlet direction | 180° |
| No. of poles | 6 |
| L1 in mm | 25.4 mm |
| L1 in inches | 1 inch |
| Number of rows | 1 |
| Pin series quantity | 1 |
| Rated cross-section | 2.5 mm² |
| Touch-safe protection acc. to DIN VDE 57 106 | Safe from finger touch |
| Touch-safe protection acc. to DIN VDE 0470 | IP 20 |
| Volume resistance | 4.50 mΩ |
| Can be coded | Yes |
| Stripping length | 10 mm |
| Screwdriver blade | 0.6 x 3.5 |
| Screwdriver blade standard | DIN 5264 |
| Plugging cycles | 25 |
| push-in force/pole | 7 N |
| Withdrawal force per pole | 7 N |
| Packaging | Box |
| | |
| --- | --- |
| Insulating material | PBT |
| Colour | Orange |
| Colour chart (similar) | RAL 2000 |
| Insulating material group | IIIa |
| CTI | ≥ 200 |
| Insulation resistance | ≥ 108 Ω |
| UL 94 flammability rating | V-0 |
| Contact material | CuSn |
| Contact surface | tinned |
| Layer structure of plug contact | 4-8 µm Sn hot-dip tinned |
| Storage temperature, min. | -25 °C |
| Storage temperature, max. | 55 °C |
| Max. relative humidity during storage | 80 % |
| Operating temperature, min. | -50 °C |
| Operating temperature, max. | 100 °C |
| Temperature range, installation, min. | -30 °C |
| Temperature range, installation, max. | 100 °C |
| | |
| --- | --- |
| Clamping range, rated connection, min. | 0.13 mm² |
| Clamping range, rated connection, max. | 3.31 mm² |
| Wire connection cross section AWG, min. | AWG 26 |
| Wire connection cross section AWG, max. | AWG 12 |
| Solid, min. H05(07) V-U | 0.2 mm² |
| Solid, max. H05(07) V-U | 2.5 mm² |
| Flexible, min. H05(07) V-K | 0.2 mm² |
| Flexible, max. H05(07) V-K | 2.5 mm² |
| w. plastic collar ferrule, DIN 46228 pt 4, min. | 0.2 mm² |
| w. plastic collar ferrule, DIN 46228 pt 4, max. | 2.5 mm² |
| w. wire end ferrule, DIN 46228 pt 1, min | 0.2 mm² |
| w. wire end ferrule, DIN 46228 pt 1, max. | 2.5 mm² |
| Plug gauge acc. to EN 60999 a x b; Ø | 2.8 mm x 2.0 mm |
| | |
| --- | --- |
| tested acc. to standard | IEC 60664-1, IEC 61984 |
| Rated current, min. no. of poles (Ta = 20°C) | 24 A |
| Rated current, max. no. of poles (Ta = 20°C) | 19 A |
| Rated current, min. no. of poles (Ta = 40°C) | 21 A |
| Rated current, max. no. of poles (Ta = 40°C) | 16.5 A |
| Rated voltage for surge voltage class / pollution degree II/2 | 400 V |
| Rated voltage for surge voltage class / pollution degree III/2 | 320 V |
| Rated voltage for surge voltage class / pollution degree III/3 | 250 V |
| Rated impulse voltage for surge voltage class/ pollution degree II/2 | 4 kV |
| Rated impulse voltage for surge voltage class/ pollution degree III/2 | 4 kV |
| Rated impulse voltage for surge voltage class/ contamination degree III/3 | 4 kV |
| Short-time withstand current resistance | 3 x 1s with 120 A |
| | |
| --- | --- |
| Institute (CSA) | |
| Certificate No. (CSA) | 200039-1121690 |
| Rated voltage (Use group B) | 300 V |
| Rated voltage (use group D) | 300 V |
| Rated current (use group B) | 10 A |
| Rated current (use group D) | 10 A |
| Wire cross-section, AWG, min. | AWG 26 |
| Wire cross-section, AWG, max. | AWG 12 |
| Reference to approval values | Specifications are maximum values, details - see approval certificate. |
| | |
| --- | --- |
| Institute (cURus) | |
| Certificate No. (cURus) | E60693 |
| Rated voltage (use group B) | 300 V |
| Rated voltage (use group D) | 300 V |
| Rated current (use group B) | 18.5 A |
| Rated current (use group D) | 10 A |
| Wire cross-section, AWG, min. | AWG 26 |
| Wire cross-section, AWG, max. | AWG 12 |
| Reference to approval values | Specifications are maximum values, details - see approval certificate. |
| | |
| --- | --- |
| ETIM 4.0 | EC002637 |
| ETIM 5.0 | EC002637 |
| eClass 6.2 | 27-26-07-04 |
| eClass 7.1 | 27-44-04-02 |
| eClass 8.1 | 27-44-04-02 |
| eClass 9.0 | 27-44-04-02 |
Notes

Additional colours on request

Gold-plated contact surfaces on request

Rated current related to rated cross-section & min. No. of poles.

Wire end ferrule without plastic collar to DIN 46228/1

Wire end ferrule with plastic collar to DIN 46228/4

IPC conformity
The products are developed, manufactured and delivered according to the internationally recognised IPC-A-610 standard, category "permissible". More extensive demands on the products can be evaluated on request.
| | |
| --- | --- |
| Approvals | |
| ROHS | Conform |
| UL File Number Search | E60693 |